Malawi Education Sector Improvement Programme (MESIP), components 3.2 and 3.3
The Malawi Education Sector Improvement Project (MESIP), funded through the Global Partnership for Education, aims to improve the quality, equity and efficiency of primary education. One of its five objectives is to improve learning outcomes, accountability, and cost-effectiveness at school level. CGA is leading two subcomponents of MESIP: 3.2 and 3.3.
We are leading two subcomponents of the Malawi Education Sector Improvement Programme (MESIP):
For sub-component 3.2, we developed a tablet-based app for zonal EMIS officers to monitor pupil and teacher enrolment, attendance and use of time, with automated reports to local and national government.
For sub-component 3.3, we developed a two-way voice and SMS platform to enable the Ministry to communicate with and receive messages from community members on issues affecting education service delivery in their area.
Output
The MESIP 3.2 Real Time Data Management (RTDM) system we built covers 1200 primary schools, equating to 21% of the total primary schools in Malawi. 3.2 is implemented in 34 education districts. The RTDM project has assisted the Ministry of Education to monitor the attendance of both teachers and students and the distribution of teachers so as to ensure resource allocation is informed by accurate data.
The MESIP 3.3 Community Dialogue Platform (CDP) project covers 150 school communities across 8 districts in Malawi. The CDP has created an opportunity for the Ministry and communities to communicate and interact via SMS and voice messaging, which is expected to result in improved community involvement in the learning activities of their children, greater school accountability and community engagement.
Development of Ministry of Education Community Dialogue Platform (CDP)
The Community Dialogue Platform (CDP) was designed and developed for the Malawi Ministry of Education as a component of MESIP to strengthen accountability in service delivery by soliciting reports from the community and managing and addressing any issues raised. The CDP operates like a grievance redress mechanism (GRM), and it consists of a central cloud-based MIS with reporting 'channels' including two-way SMS and a voice-recognition platforms to maximise accessibility for those who are not able to use written channels.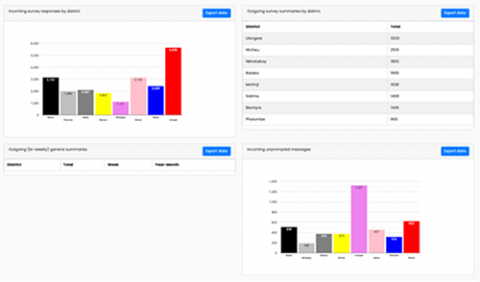 Charts 1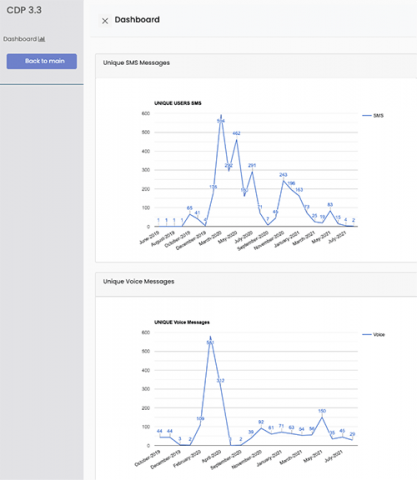 Charts 2
Outputs and Resources
Malawi Education Sector Improvement Programme (MESIP)

View dashboards

Link to site
Expertise
Sectors:
Functional areas:
Team
Chifundo Mphaya

Martha Madziatera

Bethsabée Souris