CGA Technologies has released code developed for the Government of Malawi's Social Cash Transfer Programme (SCTP) as open source, making it the first ever open source social protection platform. 
TARGET MIS was developed to the specifications of the Malawi Ministry of Gender, Community Development & Social Welfare (MoGCDSW) with funding from KfW. 
It supports the delivery of bi-monthly unconditional cash transfers to more than 300,000 poor, severely impoverished and labour constrained households and has the functionality for vertical and horizontal expansion to support any number of different social protection programmes, a capability pushed by our forward thinking colleagues at the MoGCDSW. 
By releasing the code, CGA hopes it will drive a major shift in social protection programming. 
Digital technologies are already transforming how development programmes are designed and delivered across the board, not least in social protection. But, where open source platforms have become the norm in other sectors, such as DHIS2 District Health Information Software in health, social protection has been the forgotten cousin. 
Until now. 
Our senior technical advisor, Charlie Goldsmith, announced the move during a recent Digital Convergence Initiative event Applying the Principles for Digital Development in Social Protection where was invited to discuss how CGA builds the digital principles of "Reuse and improve" and "Sustainability" into our work using the Malawi Social Cash Transfers Programme (SCTP) as an example. 
Download the code: TARGET MIS code 
One of the challenges in driving successful digital solutions for social protection has been the lack of open source code, the benefits of which have been seen in other sectors. Iron sharpens iron. By sharing and inspecting code, everyone in the sector is able to contribute to making it better. 
It is also one of the easiest ways to create sustainability and is the ultimate example of the Principle for Digital Development to "reuse and improve", a principle CGA applies in all its work. Open means new systems don't have to be built from scratch, with the same type of work paid for several times over. Instead, it enables funds to be reallocated for new developments and/or value amounts for the poor.
Development of the TARGET MIS
CGA Technologies has worked for the MoGCDSW, with funding from KfW, since July 2020 to support the SCTP.
Part of our work is to maintain the legacy management information system (MIS) created to support the operations of the original SCTP, and to develop a target - or new - MIS with improved functionality. 
The SCTP programme has grown massively since it first launched in 2006. New modules were added to the legacy MIS to support new operational needs, which led to a system that has all the functions required to support current SCTP operations, but is not efficient.
For the design of the new MIS, we built on and aligned with the logic of the legacy system built by Ayala (now Soproen) as well as with the logic of HOPE, the UNICEF Humanitarian Cash Transfer system. By doing this, the new MIS provides an element of future proofing for those who have started using HOPE for social protection programming, enabling them to transition to a full dress social protection MIS. 
In addition, we also used tools and data already in existence. Malawi already has a functioning cross-government national ID system and a unified beneficiary register (UBR). The new Social Protection MIS draws in data from the UBR and handles procedures specific to the SCTP such as targeting, enrolment, and transfer calculation.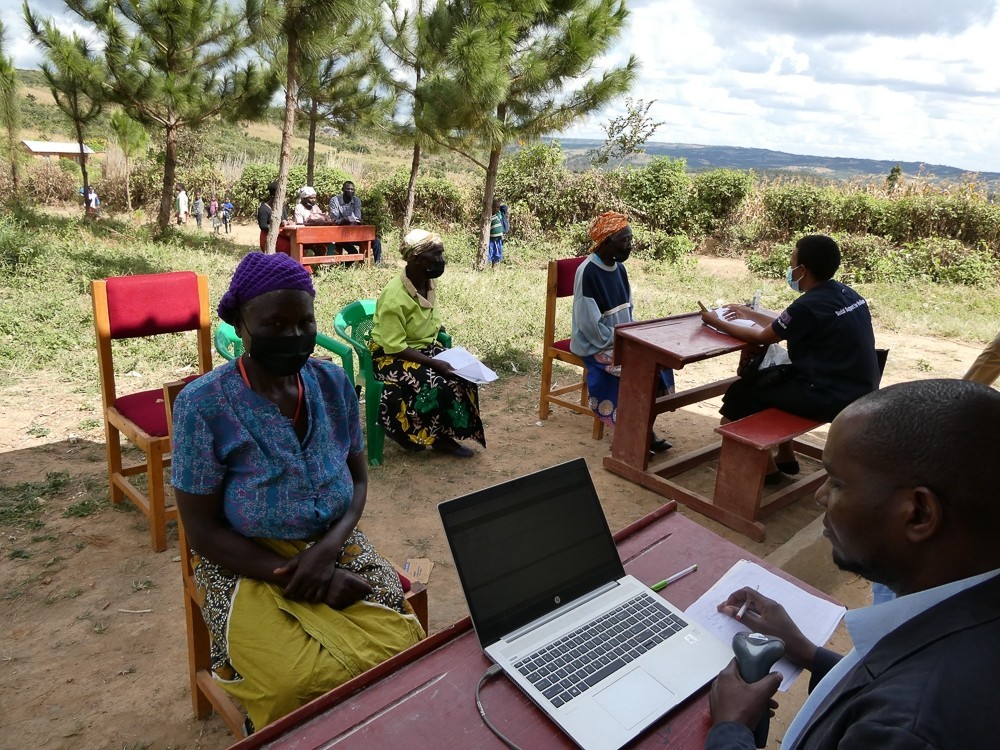 SCTP recipients in Mzimba district, Malawi, wait to collect payments: Target MIS and transition to e-payments will contribute to improving the service to recipients. Photo credit: Alexandra Rigby
Future proofing
Releasing the code as open source supports digital sustainability and future proofing, both of which are also built into the way the MIS works. 
Where the legacy system was designed for a specific process, under the specifications of the MoGCDSW, TARGET MIS is designed as a general case system. It has functionality for any number of programmes, with any criteria, any payment mechanism, for vertical and horizontal expansion, and any subset. It is a digital platform capable of meeting exciting future developments in Malawi and beyond, capable of supporting programmes that address the needs of the most vulnerable people everywhere. 
Much of the credit for this approach goes to the MoGCDSW. As Charlie Goldsmith said:
Developing a general case approach, rather than taking the easy option of a system that only supports the existing programme, required a lot of hard intellectual labour from the MoGCDSW. We can do the coding but thanks to our Ministry colleagues, we've been able to build a platform that is so much more. 
TARGET MIS is modularised to enable a smooth transition from the legacy MIS and on to a new system if and as needed for future flexibility. And it's got a secure Android app, so you can work offline from a phone.
Designing for future expansion now is vital to ensure you don't get a surprise down the line as programmes evolve. It also makes the MIS relevant for wider use beyond Malawi.
TARGET MIS will start to be brought on stream in the next few months. When complete, we will seek Digital Public Goods certification to make the final code open for all to use. Until then, the incomplete code is already open for use. 
One day, open source platforms will become as normal in social protection as it is in other sectors. Until then, we're excited to pave the way by releasing the TARGET MIS into the ether.
____
TARGET MIS is a general case Social Protection MIS system developed for the Government of Malawi Social Cash Transfers Programme with funding from KfW.
Watch Applying the Principles for Digital Development in Social Protection: https://socialprotection.org/applying-principles-digital-development-social-protection